Surgical Instruments
Mölnlycke laparoscopic surgical instruments
Choose from our extensive range of high-quality surgical instruments, available single-packed or included in your laparoscopic packs.
You and your team strive for efficiency and patient outcomes. We can help with customised solutions for laparoscopic procedures. You can expect everything your team needs for each procedure; all high-quality products, packed into convenient and cost-effective procedure packs that save time and costs.
hidden1
hidden2
hidden1
hidden2
Mölnlycke MIS instrument offer
Mölnlycke offers a range of high-quality laparoscopic instruments and trocars. Watch the film to see our offer.
hidden1
hidden2
hidden1
hidden2
Mölnlycke surgical instruments in use
Watch the video to see Mölnlycke instruments being used in a laparoscopic cholecystectomy.
hidden1
hidden2
hidden1
hidden2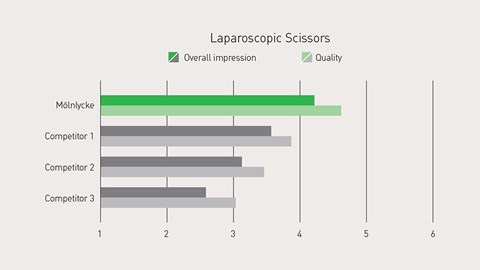 Surgeon trial shows preference for Mölnlycke instruments
Twenty-one laparoscopic surgeons across Germany, Sweden and the UK participated in a recent randomised trial of new laparoscopic instruments from Mölnlycke ® , comparing them to three market-leading competitor instruments . Each surgeon was blindfolded to ensure their assessment was objective and guided by the 'feel' in their hands.
The result? A clear preference for the new Mölnlycke instruments.